Here's how to put YOUR business on the MAP!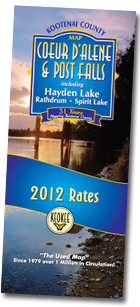 The Kootenai County Map, has been published annually for 31 years as THE map of choice for residents and visitors to Coeur d'Alene, Post Falls, Hayden, Rathdrum and Spirit Lake. Since 1979 the map has been updated each year with new roads and sub-divisions, and it now offers new design and advertising layout features to maximize the consumer's ease of use like never before.
A total 25,000-plus maps are printed and distributed each year at nearly 100 different locations, including all advertisers and all Chambers of Commerce in Kootenai County as their primary map provided free to visitors and new residents. Additionally, the map is available for purchase in key gas stations and service centers where visitors and residents frequently stop.
Advertisers, who receive a quantity of maps based on their ad size, may choose to distribute free as a value-add benefit to their clients, or, they can choose to sell the maps -- and not only recover their initial advertising investment, but earn profit as well.
New! The map now incorporates "QR Codes." These Quick Response codes are located in the heading of each advertising section on the map, and for users who have smart phones provide immediate access for the map user to link to the advertiser's website through the CDAOnline.com directory. Now, the Kootenai County Map drives customers to advertiser businesses both on the road and on the Web!
Learn more, or place your ad now! Click to contact Sales Manager Bonnie Hudlet »